Meet Your Local Orthodontist – Surrey, BC
This page is dedicated to our doctors, who are all Certified Orthodontic Specialists and completely committed to your comfort and satisfaction.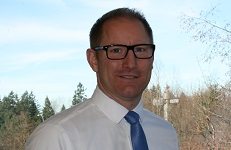 Dr. Richard Standerwick
Dr. Richard Standerwick, Certified Specialist in Orthodontics, was born and raised in Vancouver, and has over 19 years of orthodontic experience. The glowing reviews on his RateMDs page are a testament to his professionalism and quality of care, but they only give a glimpse of what you can expect, as Dr. Standerwick is a loving father to 3 children, and treats every patient with the same level of care that he'd provide his own children. In a way, you are joining a family- a family of patients related by their great teeth.
Dr. Standerwick is experienced, well-trained, and actively works with each of his patients to ensure they receive the utmost level of orthodontic care.
He graduated in 1989 from Burnaby Central Secondary, and received his BSc. in Microbiology from UBC four years later. After completing his dental education at Chicago's Northwestern University, he returned to BC where he opened a dental practice in Surrey.
Dr. Standerwick made the decision to further his education, receiving his Certificate of Orthodontics and Master of Science in Dentistry from Indiana University in 2007. During his residency, Dr. Standerwick developed a new method of cephalometric superimposition for growth and treatment analysis, and a new craniofacial growth model.
Dr. Standerwick now lives in Langley and continues doing what he loves, which is providing his community orthodontic treatment at the high standard of care that he's known for.
Dr. Standerwick has the following distinctions:
– Associate Clinical Professor for the UBC Graduate Orthodontics program
– Fellow of the College of Dental Surgeons of BC
– Fellow of the Royal College of Dentist of Canada
– Diplomate of the American Board of Orthodontics
– Member of the editoral review board for the American Journal of Orthodontics and Dentofacial Orthopedics
– has reviewed for the journals Clinical Anatomy , Head and Face Medicine , the International Journal of Stomatology and Occlusion Medicine , and Journal of Orthodontic Science .  
Dr. Roya Naseh
Bio coming soon.
Ready to book your appointment? Call us today at
604-498-4200
!
---
Guildford Town Centre Orthodontics is proudly owned by Dr. Richard Standerwick, Dr. Ruby Bhullar, and Dr. Amin Shivji.